2022 Nissan 400Z Will Debut August 17 in Production Form
Nissan's new Z sports car will be powered by a twin-turbo V-6 with a standard six-speed manual, and soon we'll see the version you can actually buy.
The production version of the new Nissan Z, likely called the 400Z, will debut on August 17, 2021.
It'll be powered by a twin-turbo V-6 engine, and we'll know all the performance specs at the reveal. It should make around 400 horsepower.
The 2022 400Z is expected to arrive by the end of the year starting at around $40,000.
Nissan revealed the Z Proto (pictured) last fall as a production-intent prototype. That car was meant to give us an idea of what'll be sold in the States, likely as the 400Z. Nearly a year after it showed the prototype car, Nissan will finally reveal the production version of the new Z on August 17, 2021 on its YouTube channel.

Images of what appear to be the production car have already leaked, and they showed that it won't be far off from the Z Proto we saw last fall. The cars, finished in dark gray and silver, had chrome trim integrated into the grille, slightly larger headlights, different wheels, and a rear decklid spoiler. The Z badge on the C-pillar will also make it to production.

Read more.
---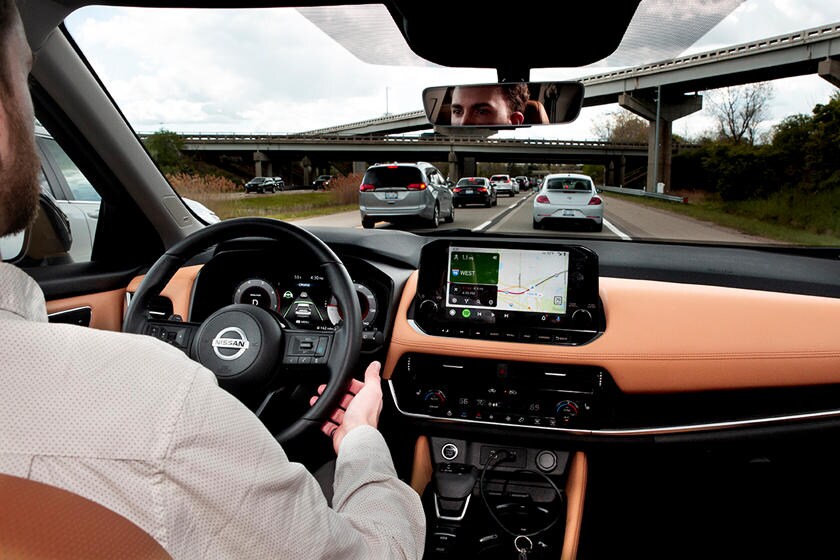 By Karl Furlong | May 18, 2021 |
Carbuzz
His time on the road helped Nissan improve its driver-assist tech.
It's easy for us to get behind the wheel of a new vehicle and either marvel at or castigate a new piece of technology without thinking about the engineers and designers who spent many hours creating and testing it. Some new vehicle tests aren't even safe enough for humans. But one human at Nissan had the tough job of sitting in gridlocked US traffic for hours to help the company improve its ProPilot Assist hands-on driver-assist system as part of his engineering internship.
This technology was first seen in the 2018 Nissan Rogue and it's one of the things we love most about the latest Rogue. Tyler Szymkowski was tasked with the job of getting himself stuck in the worst traffic he could find, something that all of us try to avoid.
While working as an intern, Szymkowski sat in no less than 64 standstill traffic jams in various cities around the country including Baltimore, Detroit, Washington, and Los Angeles. The ProPilot system operates in stop-and-go traffic by bringing the vehicle to a halt and then setting off again once traffic starts moving.
However, ProPilot initially only paused for three seconds before deactivating, requiring the driver to tap the accelerator to move again if stopping for longer than three seconds. Many customers indicated that three seconds wasn't long enough. Thanks to Szymkowski's research, numerous improvements were made to the system such as a new hold time of 30 seconds to better account for actual traffic scenarios.
"I got a very realistic taste of what customers experience in major cities," said the former intern who is now working as a human factors and ergonomics engineer at one of the company's technical centers. "It was really cool that Nissan was letting an intern have an impact on a new emerging technology."
On new Nissans like the Rogue and Pathfinder, ProPilot can sync with the navigation system for an even more intuitive experience. By doing so, the car's speed can be reduced if, for example, approaching a tight curve. We applaud Nissan's research but are happy not to have had to sit through hours of heavy traffic ourselves." Read more

---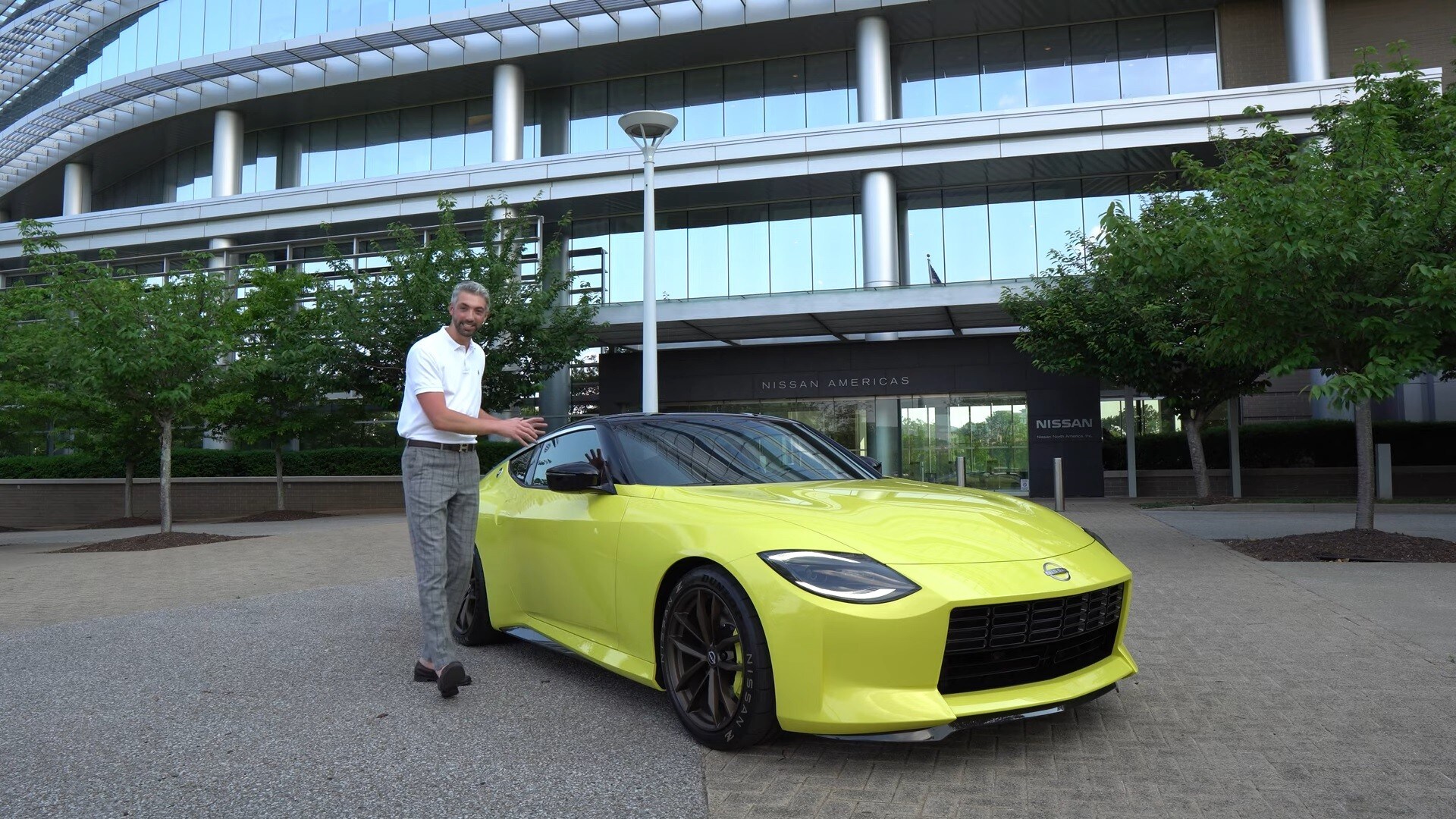 2022 Nissan Z Proto Walkaround Video Reveals 7,000-RPM Redline, Cool Easter Eggs
Expected to launch in late 2021 as a 2022 model, the
Nissan Z
promises to disrupt an overhyped Japanese sports car. First and foremost, the GR Supra will play second fiddle because it doesn't feature a stick shift.
Byron Glover Jr. of
Drive 615
had the opportunity to get up close and personal to the Z Proto at the Nissan Americas headquarters, and the first impressions are very positive. The six-speed manual is flanked by two buttons, one for engine start/shutdown and the other for automatic rev matching. If your heel-and-toe skills aren't up to snuff, the button located on the right side of the center console will help you downshift like a champ.
Toward the halfway point of the 16-minute video featured below, Byron also highlights the gauge pod on the top of the dashboard. The one closest to the driver is for boost and goes up to 20 pounds per square inch, the middle gauge is for turbo speed and goes up to 250,000 revolutions per minute, and the final one is curious for a modern car, namely a volt gauge.
The working prototype also hides a few Easter Eggs in plain sight, starting with the 1,969-mile odometer reading that references the first year of production for the Datsun 240Z. The distance-to-empty readout shows 370 miles, and the digital clock on the top right corner of the central touchscreen reads 2:40 PM. There are, however, a few more details worthy of mention.
Take a second look at the digital instrument cluster. The centrally-located tachometer goes up to 7,000 rpm in sport mode, which is 500 rpm short of the 3.7-liter V6 in the 370Z. The all-new Z doesn't rev as high because it's a twin-turbo affair borrowed from the Infiniti Q60 Red Sport 400, a luxurious coupe that flaunts 400 horsepower and 350 pound-feet (475 Nm) of torque. Coincidence or not, the go-faster Q60 also tops 7,000 rpm.
As opposed to the Infiniti's seven-speed auto, the optional transmission in the
2022 Nissan Z
is the 9G-Tronic introduced by Mercedes-Benz in 2013. Known as the JATCO JR913E in Nissan vernacular, the nine-speed automatic is shared with the full-size Titan and mid-size Frontier pickup trucks.
---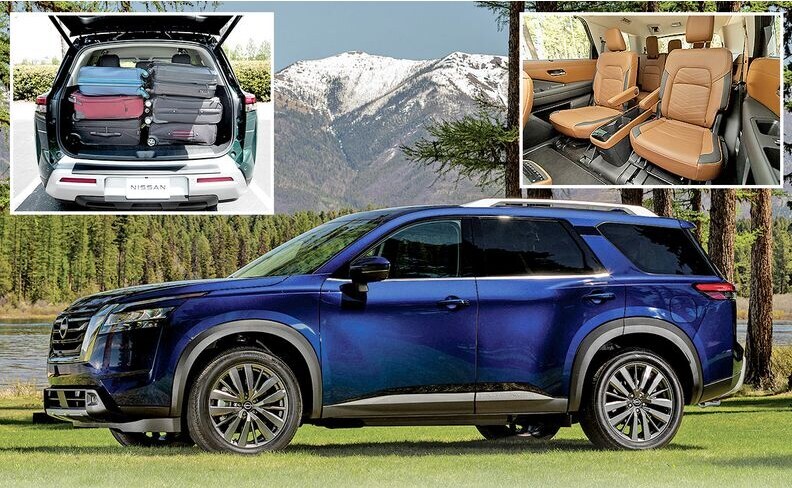 Nissan fights back with new looks, more space in Pathfinder
---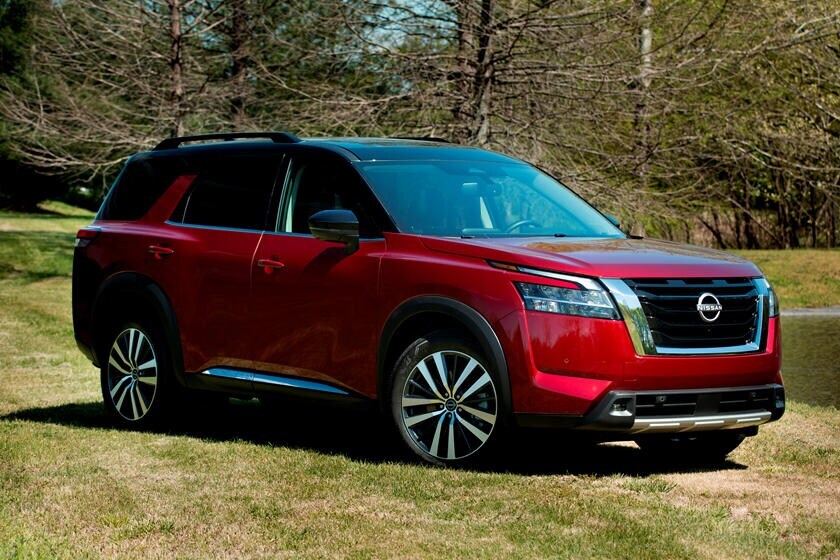 The legend has returned. Get up close and personal with the ruggedly redesigned All-New Nissan Pathfinder. Explore style, interior technology, safety and more.
Learn more
---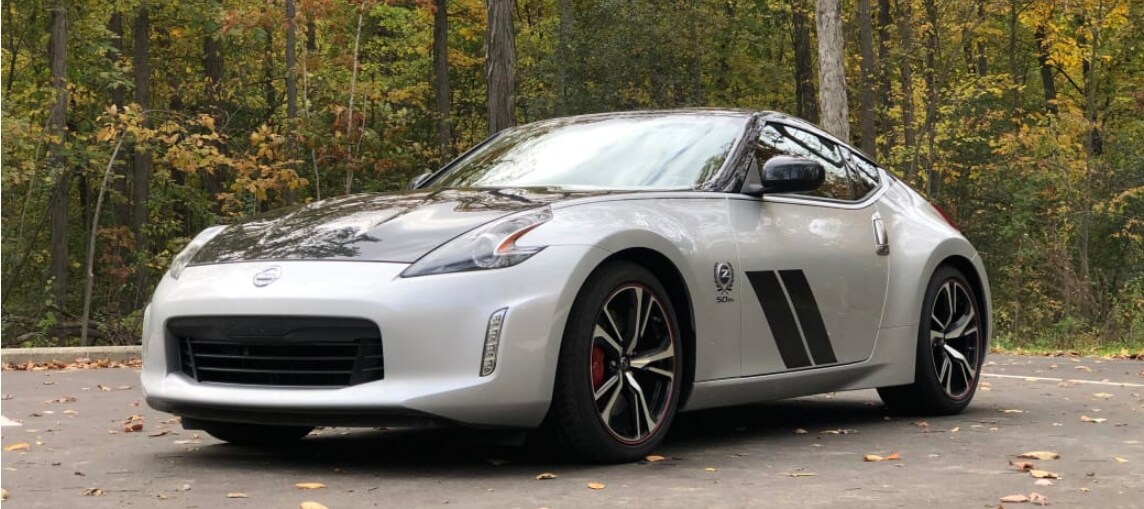 NISSAN'S 370Z IS NEARLY SOLD-OUT ACROSS THE UNITED STATES
May 03, 2021Ronan Glon | May 3, 2021 | autoblog

Nissan's 370Z has nearly reached the end of its lifecycle, according to a recent report. While it's still displayed on the firm's official website, the rear-wheel-drive coupe is almost sold-out at dealers across the United States.
 Only 28 units of the 370Z found a home in America during the first quarter of 2021, a 95% decline compared to the same time period in 2020, and website CarsDirect believes that shockingly low figure isn't a sign that demand for the 12-year-old model has collapsed. It speculates that the 370Z is sold-out; it wrote there are no more units left in Nissan's national inventory, and that there are none in the pipeline. Autoblog learned there is still time to pick up a new Z, however.
 "We've investigated, and there are still a few vehicles left in inventory," a company spokesperson told us. "We cannot comment further outside of the statement," the source added, so we don't know if more Zs are on their way, or if what's left is what buyers will need to fight over. Officially, Nissan merely confirmed it extended 370Z sales into 2021.
 The 370Z isn't quite sold-out, but it sounds like the end is near. Nissan axed the 370Z Roadster after the 2019 model year, and it previously confirmed the coupe would retire in 2021, though it didn't reveal precisely when it would manufacture the last example. While the 370Z likely won't receive a special edition to carry it into retirement, it got the honor of celebrating the storied Z nameplate's 50th birthday in 2019, when Nissan released a 50th Anniversary Edition model (pictured).
 What's next?
 Once the 370 retires, Z fans who want to put a new coupe in their driveway will need to wait until the production version of the Z Proto (pictured above) makes its debut. Tentatively called simply Z, without a number preceding the letter, it won't change much as it makes the transition from a concept to a production car, and unverified reports claim it will receive a 400-horsepower version of the twin-turbocharged, 3.0-liter V6 currently found in the Infiniti Q50. Buyers will be asked to choose between a six-speed manual transmission and a nine-speed automatic sourced from Mercedes-Benz.
 Sales in the United States will likely start in 2022, meaning the Z could land in showrooms for the 2023 model year. Citing ever-stricter emissions regulations, Nissan confirmed the coupe will not return to the European market.
---
NISSAN AND BRIE LARSON BRING BACK THE 'THRILL' OF DRIVING IN NEW CAMPAIGN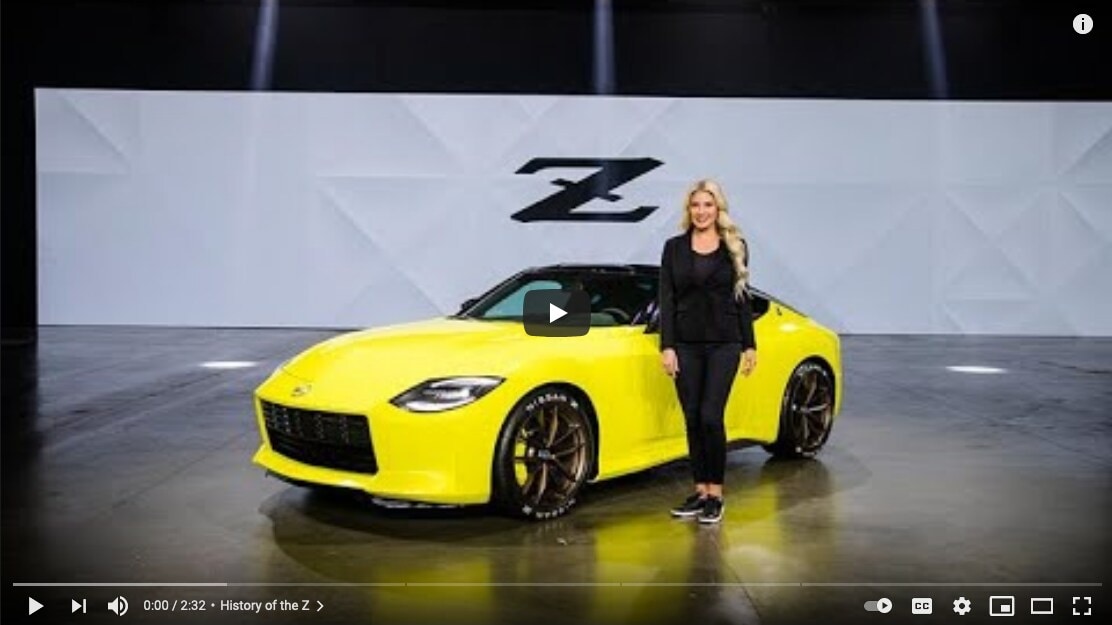 April 05, 2021
    "Thrill" marketing campaign showcases new direction for Nissan brand
    Actor Brie Larson brings excitement to refreshed lineup of Nissan vehicles
    "The New Nissan" spot debuts this weekend during NCAA March Madness® Tournament
NASHVILLE, Tenn. - Following the reveal of 10 new products over 20 months, the Nissan brand now focuses on the "Thrill" of its refreshed lineup and bringing that excitement to customers. Actor Brie Larson showcases Nissan's thrilling vehicles from the past, present and future in the brand's latest commercial. As an official NCAA partner, Nissan will debut the "Thrill" campaign during the NCAA Men's Final Four with a brand-new spot named, "The New Nissan."
The spot opens with Larson experiencing some of Nissan's most iconic heritage vehicles through the decades, asserting that cars once played important roles in pop culture, but noting that the feeling has been lost in recent years. The story takes a sudden turn to feature Larson driving spiritedly in a Z Proto, then off-roading in a Frontier, driving an all-electric LEAF and behind-the-wheel of a tech-packed Rogue, showing the distinctive thrill each vehicle has to offer. The spot ends with Larson driving away in the Nissan Ariya, followed by a wide shot displaying the new Nissan product portfolio.
"At Nissan, we want to thrill people at every turn and we're excited to showcase this with our completely refreshed product lineup," said Allyson Witherspoon, vice president and chief marketing officer, Nissan U.S. "We've been working with Brie for more than a year and she definitely brings the spirit of our message to life in this latest campaign."
Nissan first worked with Larson last March, with the "Refuse to Compromise" campaign featuring the redesigned Sentra. More recently, Larson and Nissan reconnected last fall for a campaign showcasing the all-new 2021 Nissan Rogue in a variety of settings to showcase its all-wheel-drive capability, which was the beginning of a multi-year partnership between Larson and Nissan.
"It's been incredible to work with the Nissan team as we prepare the launch of the 'Thrill' campaign," said Larson. "Whether it's a road trip or your daily commute - driving should bring a sense of joy. We're excited to celebrate the freedom in driving."
 Earlier this month, Nissan premiered its commercial, "The Chase," focusing on the Road to the Final Four. The "Thrill" campaign debuts on television, web and social media this weekend.

WatchNow
---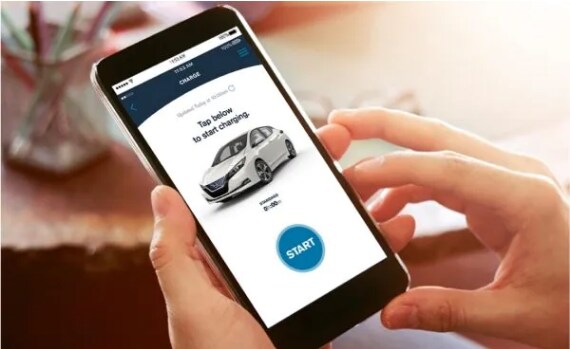 "ALEXA, START MY CAR": DO MORE WITH NISSAN AND AMAZON ALEXA
March 22, 20213/16/21 | Nissannews

Nissan customers can now ask Alexa to start, lock and unlock their vehicles with a simple request like "Alexa, start my car." Alexa is Amazon's intelligent voice AI, ubiquitous in homes around the world.
Nissan is the first automaker to work with Amazon on new features that leverage Alexa's new Connected Vehicle Skills API, making it more direct and easier for customers to control vehicle functions with Alexa.The system requires a select Nissan vehicle from 2016 through today, equipped with NissanConnect Services, and an Alexa-enabled home device.
The NissanConnect Services "Skill" update is automatically available immediately, and at launch includes the capability to start, lock and unlock your vehicle. Additionally, households with multiple Nissans can personalize the names of each of them and use the name to direct the request; for example, "Alexa, lock Wyatt's car." Customers now also have the ability to maintain multiple vehicles on the same account; for example: "Alexa, start my Rogue" and, "Alexa, start my TITAN."
"This advancement with Amazon's Alexa makes owning a Nissan vehicle that much easier," said Jared Haslam, vice president, product planning, Nissan U.S. and Canada. "Our customers integrate their vehicles with their lives, and certainly integrate Alexa with their lives, so this combination could not be more ideal."
Nissan owners with the following vehicles equipped and enrolled with NissanConnect Services can start enjoying Alexa even more today: 
    2016 and newer Altima
    2018 and newer Armada
    2017 and newer GT-R
    2016 and newer Maxima
    2017.5 and newer Murano
    2017 and newer Pathfinder
    2016 and newer Rogue
    2017 and newer Rogue Sport
    2017 and newer TITAN
    2016 and newer TITAN XD
    2016 and newer Sentra (excluding 2019 and 2020)
NissanConnect Services, a suite of convenience and security features, helps when owners need it most - including remote access features and emergency response services. NissanConnect Services can be accessed from inside the vehicle, on a computer, on a smartphone or smartwatch app and with Amazon Alexa or Google Assistant.
Since 2017, Nissan has been working with Amazon and their Alexa platform, allowing customers to remotely control vehicle functions from almost anywhere with just their voice. Nissan has continued collaborating with Amazon to simplify the customer experience for the most popular requests. Simplified commands to start, stop, lock and unlock will all be available at launch, with additional capabilities available in the coming months.
 For more information on the NissanConnect Services, visit NissanUSA.com/connect. For more information about the complete lineup of Nissan vehicles, visit NissanUSA.com.
---
---
---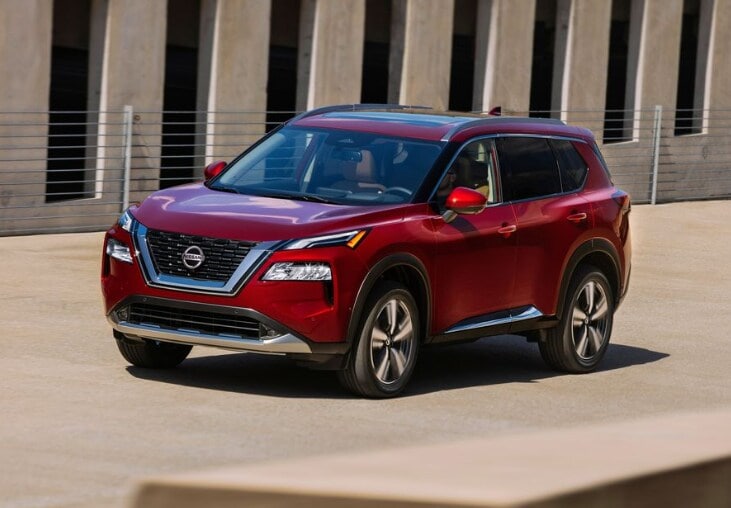 2021 NISSAN ROGUE TO ADD TURBO 1.5L THREE-CYLINDER FOR BETTER MPG
March 16, 2021Joey Capparella | March 14, 2021 | Caranddriver

    The 2021 Nissan Rogue will gain a new engine, a turbocharged 1.5-liter three-cylinder.

    Nissan says it's part of a "small pilot program" to evaluate new technology.

    According to the EPA, the new engine is significantly more efficient than the Rogue's 2.5-liter inline-four.
The 2021 Nissan Rogue will soon add a small-displacement turbo engine, according to the EPA website. FuelEconomy.gov lists official ratings for a 2021 Rogue with a turbocharged 1.5-liter inline-three gasoline engine that provides a boost of between 2-4 mpg over the current naturally aspirated 2.5-liter inline-four. Nissan told C/D that this new engine is part of a "small pilot program" to evaluate this potential new powertrain, and we think it will eventually become part of the lineup for good.

The 1.5L engine in the front-wheel-drive Rogue is rated at up to 30 mpg in the city, 33 mpg combined, and 37 mpg on the highway. With all-wheel drive, the highway number drops by 1 mpg. The EPA also lists a separate, slightly lower rating for the three-cylinder Rogue in SL and Platinum trims, as it does for the 2.5L model. The three-cylinder is listed as having a continuously variable automatic transmission.
We don't yet have any power or torque specifications for the new 1.5-liter engine and it's the first we've heard of this new powertrain from Nissan. A spokesperson said that the company is planning a pilot program for this engine but did not share any more specifics on how it would be rolled out.
Look for more information to come in the near future about this new engine, which may eventually be found in other Nissan models as well.
---
NISSAN ROGUE, MAXIMA, ALTIMA AND SENTRA EARN TOP SAFETY RANKINGS FROM IIHS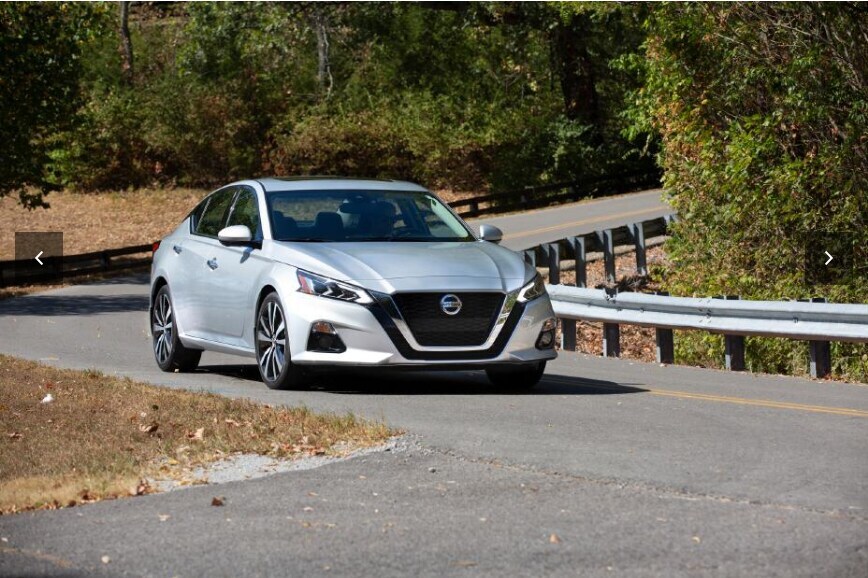 March 08, 2021March 3, 2021 | Nissan news

The 2021 Nissan Rogue, Maxima1 and Altima provide the highest level of occupant safety according to the Insurance Institute for Highway Safety (IIHS)2, each being awarded the organization's TOP SAFETY PICK+ designation this week.
The 2021 Nissan Sentra earned a TOP SAFETY PICK award, when equipped with specific headlights.
All four models feature Nissan Safety Shield® 360 as standard equipment. Nissan Safety Shield® 360 is a comprehensive system of cameras, radar technology and sonar that works to monitor in front, behind and beside the vehicle as it drives, and can step in to help keep the driver and occupants safe.3 Both the Rogue4 and Sentra5 offer the most standard safety features in their respective classes.
Both awards require good ratings in all six IIHS crashworthiness tests - driver- and passenger-side small overlap front, moderate overlap front, side, roof strength and head restraints. Award winners must be available with front crash prevention that earns a superior or advanced rating in both vehicle-to-vehicle and vehicle-to-pedestrian evaluations.
Additionally, TOP SAFETY PICK winners must be available with good or acceptable headlights. The "plus" designation is given to models that have good or acceptable headlights across all trim levels and packages.
The Insurance Institute for Highway Safety (IIHS) is an independent, nonprofit scientific and educational organization dedicated to reducing the losses - deaths, injuries and property damage - from motor vehicle crashes.
---
NISSAN'S NV350 OFFICE POD LETS YOU WORK ANYWHERE -- SERIOUSLY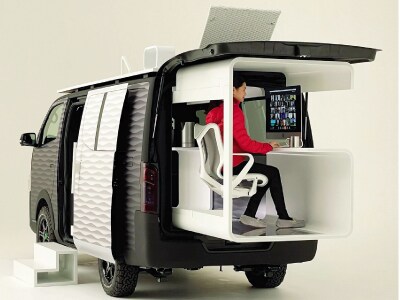 January 18, 2021Sean Szymkowski | Jan.15, 2021 | cnet.com

You can pull the office out of the van when you want some time with nature, which sounds pretty wonderful.

The 2021 Tokyo Auto Salon isn't happening due to the coronavirus pandemic, but that isn't stopping Japanese automakers from participating in a virtual fashion. Nissan on Thursday revealed this super quirky concept it had planned to bring to the show: the NV350 Office Pod.
The NV350 features exterior modifications to help it cross rougher terrains, which would certainly lead me to get out of dodge, and when you get there, the real magic unfolds. Literally. Inside the Office Pod concept is a small but functional office complete with a desk, chair and space for a large monitor. There's also a small station for coffee, so it sounds like Nissan knows me well.

But drivers can legitimately pull the office out of the van to sit within nature or wherever they're parked to enjoy the sights while they carry on with their work day. There's even an upstairs "balcony" to relax on -- complete with a lounge chair and umbrella -- when it's time for a break from the grind. It's very Japanese and very cool.
Nissan, I'll take one. I think many of us here will take one, actually.

---
NISSAN Z DEVELOPMENT BOSS WANTS DRIVING IT TO BE LIKE FINDING 'A NEW DANCE PARTNER'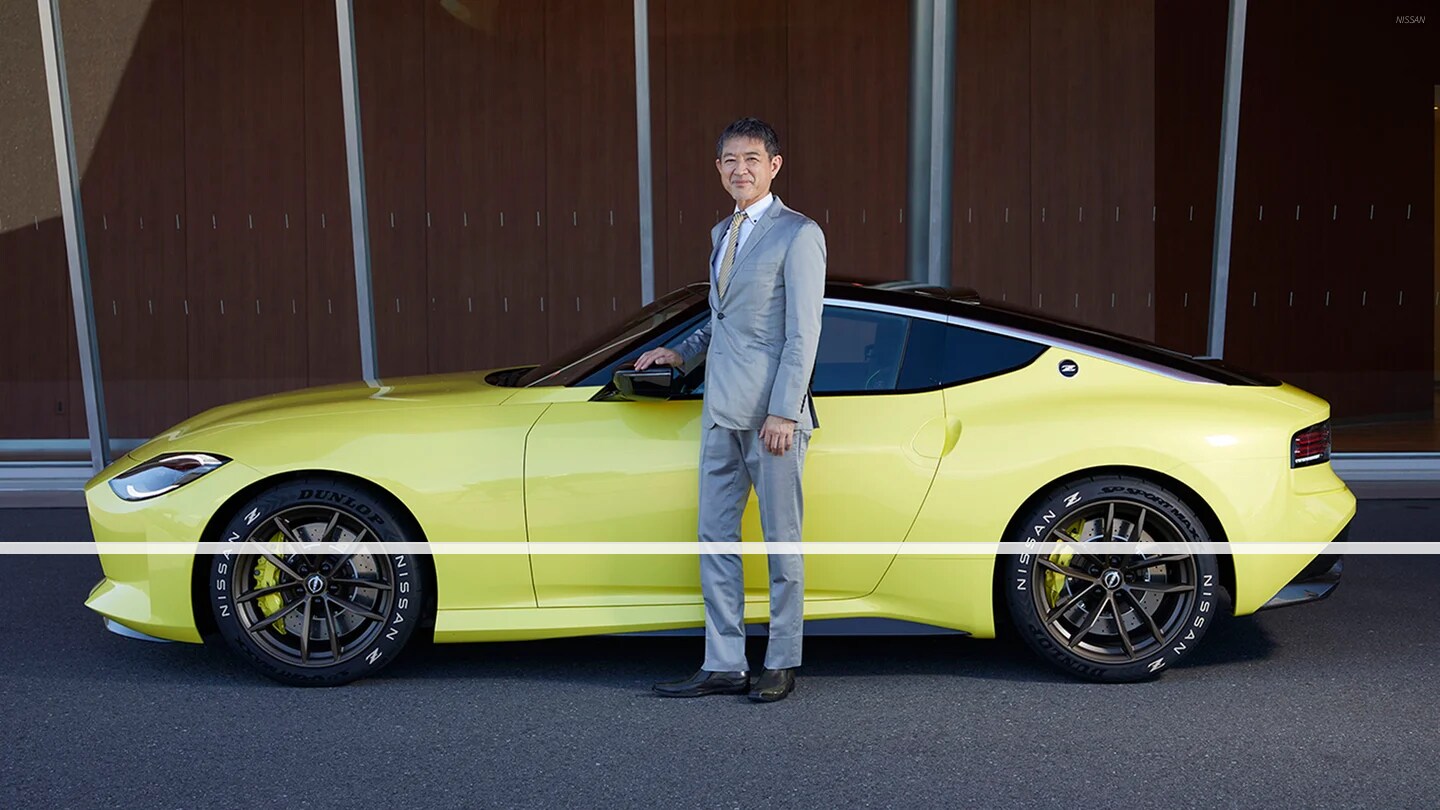 By Steve Cole Smith, December 27, 2020, TheDrive

A man not given to hyperbole, Hiroshi Tamura has big goals for the next Nissan Z. And since his title of Chief Product Specialist for the automaker's iconic coupe means it's his job to lead the car's development and maintain its quintessential "Z-ness," we'd do well to listen to what he's saying. In a new interview published by Nissan last week, Tamura was clear about his vision and mission: "I want people to drive the next Z and feel like they have discovered a new dance partner."
Nissan's sports-car spirit has been on life support for a while. The current Nissan Z, even the NISMO version, seems old enough to qualify for AARP membership. And it was a long period between the much-loved Nissan 300ZX, introduced in 1990, and the first iteration of this current model, the 350Z. And that car has never really said "Z" to any of us who own an original 1970 model 240Z.

This one does, and it should, said Tamura, in the interview Nissan released. As the owner of two vintage Zs, they have the right man for the job. He has worked at Nissan since 1984, and to think he now is in control of helping shape the new car, previewed by the Nissan Z Proto concept (which looks ready for the showroom, frankly), "is a dream come true." In April 2012, he became the chief product strategist of the GT-R and the 370Z.
"I've been a Nissan petrol-head since I was a kid. I was a fan of two main cars in my youth-the GT-R and the Z-and it was then (that) I wanted to be a part of the future of Nissan and its sports cars. I remember the GT-R's power and racing performance, and I remember the beautiful look of the Fairlady Z [the precursor to the 240Z]; these cars changed my life.

"My intent for the Z has always been to provide a balance between style, power and technology, all of which can be easily accessed by the customer. The Z must move right, look right," he said.
The interview has plenty of reflection on the Z's importance to Nissan, but it doesn't add much to the concrete details. We've determined that the Z Proto has a twin-turbo V-6 and a six-speed manual (yes, manual!) or automatic transmission. It's 172.5 inches long (more than five inches longer than the current Z), 72.8 inches wide and has 19-inch tires and wheels. 

For more than that, we have to wait. It will be worth it, Tamura said. "It helps that I have loved Z cars since the very beginning, and I have owned them over the years. I know what the Z means to me, so I know what it means to the customer."
---
2021 NISSAN ARMADA KICKS UP DUST IN TEASER VIDEO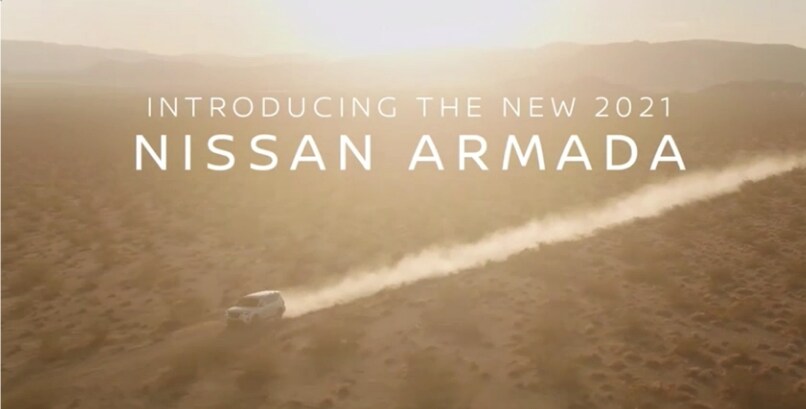 By Colin Beresford, CarAndDriver, Dec 4, 2020

    The three-row Nissan Armada is getting a refresh for 2021, and this short clip gives some idea of how it's changing.

    It appears that the front and rear lights gain new shapes and that overall, the boxy figure of the full-size SUV is maintained.

    The 2021 Armada will be revealed in full on December 8.
Now four years into its second generation, the Nissan Armada is getting refreshed for 2021, and since we've already seen the the updated 2020 Nissan Patrol, which is the international version of the Armada, we have some idea of what's coming at the reveal on December 8. In this teaser, we can see the Armada racing down a dirt road and then a quick cut to the rear end of the SUV, neither shot of which shows a whole lot but does suggest that Nissan is keeping a good thing going as the changes will likely be subtle.

The Armada's presence on a dirt road does suggest that Nissan isn't messing with the SUV's rugged image, but other than that shot, we're unsure whether such outdoorsy features as all-terrain tires or skid plates will be part of the packaging. From a distance, we can also see that the Armada maintains its boxy figure and doesn't undergo any extreme changes on the front of the vehicle, but perhaps a closeup shot would show something different.

It's difficult to discern any material differences with the quick shot of the rear of the Armada, but from a first look, it does appear that the rear taillights may have a different shape and that other features, such as the rear bumper, may have been slightly altered. 

The 2020 Patrol sold elsewhere is likely a good indicator of what the updated Armada is going to look like, including the new grille which drops some of the chrome accents, a larger lower air intake, sleeker headlights, and the addition of side air vents. The Patrol's rear bumper doesn't appear as large as that on the Armada, but that has been the case throughout the previous generation of both vehicles. Its taillights are less rounded, giving the SUV a slightly more refined look, and a chrome runner with the name "Patrol" on it connects the taillights, giving the rear end more continuity.
The 2021 Armada is expected to keep its 390-hp V-8 and seven-speed automatic transmission, currently the only powertrain choice for the big SUV. We'll bring full details once the new model is revealed next week.

Learn more
---
REDESIGN FOR 2021 MEANS A MORE SOPHISTICATED NISSAN ROGUE
November 30, 2020The compact SUV, Nissan's best seller, gets a power boost, improved ride and handling, and more tech. 
Mary Lowry, 11/30/2020, heraldnet

"Nissan's Rogue compact SUV, the most popular model in the brand's lineup, gets a full redesign for 2021. Along with an entire change in appearance, the 2021 Rogue has an all-new platform providing a quieter cabin and improved ride and handling characteristics. Its engine receives a power boost over the previous Rogue, and infotainment and connectivity technology is now up-to-the-minute.
Rogue is available in S, SV, SL and Platinum trim levels. The Platinum trim is new for 2021. All versions offer a choice of front-wheel or all-wheel drive and have the same engine: a 2.5-liter four-cylinder making 181 horsepower and 181 pound-feet of torque. That's a gain of 11 horsepower and 6 pound-feet over the outgoing model. A continuously variable automatic transmission (CVT) is standard across the board. 

Fuel economy ratings for the new Rogue are a strong selling point. As estimated by the EPA, they are 27 mpg city and 35 mpg highway with front-wheel drive, and 26 mpg city, 33 mpg highway with all-wheel drive. The trade-off is acceleration - a tad less exuberant than some Rogue competitors in the compact SUV segment.

My test car was an SV model with AWD, priced at $29,835. Five drive modes are included in the all-wheel drive system: Off-road, Snow, Standard, Eco and Sport. They are driver-selectable using a dial on the center console.
 Rogue doesn't skimp on standard features. Even the base S trim is abundantly equipped. Moving up a step to the SV adds an eight-way power-adjustable driver's seat, heated outside mirrors, 18-inch wheels, upgraded audio (six speakers), a Wi-Fi hot spot, two rear charge-only USB ports, dual-zone automatic climate control and remote start. Additional driver assistance features are also added, including a surround-view exterior camera system, lane-keeping assist, adaptive cruise control and Nissan's ProPilot Assist semi-autonomous driving technology.
The 2021 Rogue interior is an achievement in style, comfort and functionality. Nissan Zero Gravity seats are worthy of long trips. Headroom and legroom are generous for both rows, and rear seats recline. Rear doors open nearly 90 degrees, which makes entry, exit and child car seat installation easier. 

Rear cargo capacity with second row seats in upright position is 31.6 cubic feet in the S and SV grades. A Divide-N-Hide system in the SL and Platinum grades provides hidden and secure storage and expands cargo capacity to 36.5 cubic feet. There are numerous storage compartments for smaller items, including a center console bin with butterfly-style top opening and door pockets designed to perfectly hold a 32-ounce water bottle or thermos.
Thanks to Rogue's nifty new electronic shifter that doesn't require mechanical equipment below it, there's extra storage space available beneath the center console.
The strikingly good-looking Charcoal cloth upholstery in my test car was two-toned, with grayish patterned seat centers trimmed in black. Very dapper.
At the forefront of Rogue's new cabin is its stillness, which persists even at higher speeds and over rough surfaces. "

Read more
---
2021 NISSAN SENTRA GETS EVEN BETTER WITH MORE STANDARD TECH
November 23, 2020Jared Rosenholtz | 11/23/2020 | Carbuzz.com

Apple CarPlay and Android Auto integration now come standard on all trims, instead of only on the SV and SR grades. This upgrade alone should justify the small starting price bump. The car continues to offer the most standard safety features in the compact sedan class as part of the Nissan Safety Shield 360 suite. This safety suite bundles automatic emergency braking, rear automatic braking, pedestrian detection, blind-spot monitoring, rear cross-traffic, lane departure warning, and high beam assist. Read More
---
2021 NISSAN GT-R REVIEW: FAST, VISCERAL AND BEAUTIFUL
November 16, 2020Josh Smith, 11/12/20, Newsweek.com

The 2021 Nissan GT-R turns heads and rightly so with beautifully monstrous good looks and it's ready to rise to the attention with a blistering sub-3-second 0-60 time. Yes, it's an aging car, but it's still delivering smiles and earning the nickname Godzilla.
With an all-wheel-drive system that skews towards the rear and impressive grip, the GT-R propels the driver along straightaways and tight turns with ease.
What Is It Like to Drive the 2021 Nissan GT-R?
The Nissan GT-R is blisteringly fast, pushing you into the racing seats and holding you there. Under the GT-R Premium hood is a 3.8L twin-turbo V6 that screams when you push the car. With R modes on and Launch Control, the GT-R bolts from 0-60 in 2.9 seconds in a hard-charging sprint that is tough to match even though other cars are quicker.
Driving the 2021 GT-R is a visceral experience where you hear the car working as gears shift and turbos spool. The fun isn't just on straightaway acceleration. The dual-clutch transmission does the shifting for you, but it is possible to switch to manual mode and use paddle shifters mounted on the wheel to change gears. In manual mode, the transmission responds quickly to shifts. When you use launch control to accelerate faster, you'll likely want to leave the transmission in auto, since the GT-R sprints through first gear almost faster than you can react.

The all-wheel-drive system and sticky stock tires hold tight through corners at high speeds and ramp as you roar out of the turn. It's not a lightweight car, but it's able to go toe-to-toe in the turns. We felt in control as we piloted the GT-R through heavy rain and on slippery roads.

It's even possible to daily drive the GT-R, which is what we did during our week with the Premium model. The ride quality is surprisingly good in the standard or Comfort suspension modes. It's not as comfortable as the LC 500 for a long drive, but it is a car that survives the daily driving test for the right person.
Road noise is present even with the acoustic windshield and insulation throughout the vehicle, but active noise cancellation helps keep it manageable. With exhaust sound control, the driver can choose to reduce the exhaust volume.
---
2021 NISSAN PATHFINDER RENDERED FROM SPY PHOTOS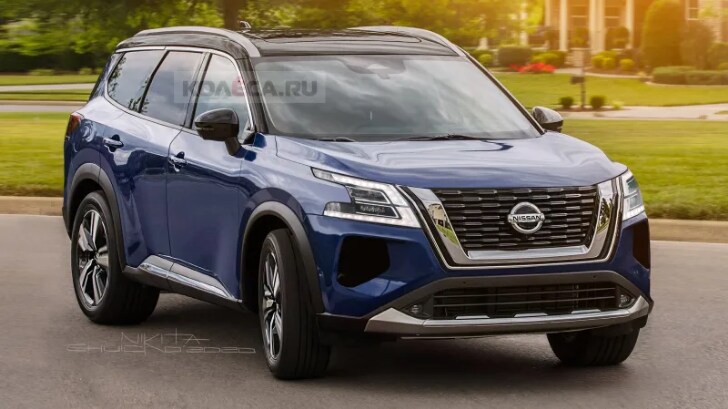 Ben Zachariah | 11/1/2020 | caradvice.com

The upcoming Pathfinder has been illustrated, showing off the brand's latest design language. 

Using spy photos as a basis for these images, artist Nikita Chuiko from Russian website Kolesa has rendered the 2021 Pathfinder, giving us our best look at the new SUV yet.
As the camouflaged photos suggested, the SUV will gain the latest iteration of Nissan's signature front-end, featuring the brand's 'V-motion' grille and 'boomerang' headlights.

While it may look substantially different, the new model is expected to be a heavily revised version of the current Pathfinder, running on Renault-Nissan's D platform.
While the 3.5-litre V6 will likely carry over, it's possible the CVT automatic may be replaced by a conventional automatic. Less is known about the Pathfinder hybrid at this stage, though with Nissan's ongoing focus on electrification, a petrol-electric powertrain will likely also join the range again.
Both front-wheel drive and all-wheel drive layouts are expected to continue in the new model.
There's no official word yet on when we can expect the 2021 Nissan Pathfinder, but it's anticipated the unveiling will occur before the fourth quarter of next year.
Read More

---
2021 NISSAN FRONTIER LEAKED! SEE THE MID-SIZE PICKUP TRUCK'S NEW LOOK
October 26, 2020Not a Navara-this is finally Nissan's new Frontier. And it is way more modern than the current one.
Alexander Stoklosa | Oct 23, 2020 | Motortrend

We all know Nissan's Frontier pickup is poised for its first full redesign in 16 years. The current version of the mid-size truck underwent an unusual final-year upgrade, keeping its ancient body and interior but gaining an all-new engine-the same engine, in fact, that will power the new 2021 Nissan Frontier when it arrives. But enough about that old rig. What about that new one? Well, after Nissan released a teaser of the '21 Frontier recently, someone spotted one naked and totally out there.
Leaked photos that appeared on FormaCar.com show a truck that looks a lot like the one Nissan itself teased, and even wears "Frontier" lettering stamped into its grille surround and tailgate. In the photos, two versions of the Frontier can be seen. The white one looks more traditionally outfitted, with a chrome grille surround, running boards, and a silver-finish roof rack. A second Frontier, a flat-gray example, appears to be decked out in more off-road-ready kit. Perhaps it is a PRO-4X model, Nissan's off-road trim level offered on the current Frontier and the larger Titan. This would make sense, given the more aggressive tires it's wearing, along with extra body cladding, blackout grille, roof lights, and front brush bar.
 The new Frontier looks markedly more modern than the old one, although that's a low bar to clear. At first blush, it appears much like a smaller version of the Titan, but the look is overall less blocky. Will it set any new styling trends? Likely not, but the truck has a strong face, simple headlights stuffed with technical-looking LED elements, and retains the original Frontier's signature rounded fender flares. Overall, the new Frontier's look builds heavily on that of the Navara pickup that's been offered in other markets for some time now, but the Frontier wears a bolder grille and more square-jawed bumper detailing. (For comparison, here are some shots of the current, old Frontier below.)

We expect the Frontier's cabin to take a great leap beyond its forebear's dour environment simply by virtue of being, uh, sixteen years newer. Look for Nissan's latest infotainment and active-safety gear to make the leap into the 2021 Frontier. We'll know for sure when the new Fronty is unveiled officially later this year or early next.
---
NISSAN WILL DISCONTINUE THREE MODELS NEXT SUMMER
October 12, 2020 Jay Traugott | 10/11/2020 | Industry News

What's on the chopping block? Read on.

Nissan is currently in the middle of an aggressive new product offensive for the US market as part of its turnaround efforts. The Japanese automaker has faced a troubling financial situation for some time but after significant efforts, the worst might be behind it. However, expect some US model lineup changes to happen as part of the new Nissan Business Advantage plan. The initiative, described as "a one-stop shopping solution for companies of all sizes with a full lineup of Nissan vehicles," though three specific models won't be included.
The Nissan NV Cargo, Passenger, and NV200 vans will all be dropped from the lineup next summer "in order to focus on core products." Sales for all three will continue throughout the year in North America until all inventory is gone.
Despite their discontinuation, Nissan is confident other vehicles in its lineup can still meet the needs for any business owner. "From three Nissan Frontier pickups for a pest-control business to several Nissan Rogues for pharmaceutical representatives to make doctor calls, Nissan provides customized vehicle solutions for nearly anyone," said Michael Colleran, senior vice president, Nissan U.S. Marketing and Sales.
The new Business Advantage Plan enables participants to financing and incentive options, on-demand delivery from dealerships, priority service, and easy billing. What's more, all current Nissan vehicles qualify for the program, although we find it hard to imagine seeing a GT-R serving as, say, a plumber's vehicle.
With its three-van lineup soon to be gone, current owners eventually looking for replacements will have two basic choices: stick with Nissan or shop elsewhere. Within Nissan's surviving lineup, the most likely best suited NV replacement will be a truck, specifically the Frontier or Titan (whose future may also be in doubt), or an SUV crossover like the all-new Rogue. Fortunately, a completely redesigned Frontier is just around the corner.
But still, van customers are typically quite committed to this segment for a number of understandable reasons. The fact that Nissan will soon be done with vans in North America may not sit well with them.

Read More
---
A FRONTIER FIRST: NISSAN NISMO OFF-ROAD PARTS TO DEBUT AT THE 2020 REBELLE RALLY
October 05, 20209/29/20, Nissannews.com

NASHVILLE, Tenn. - Nissan Frontier, already a legendary off-roader, will compete in the longest, most demanding off-road rally in the United States with a boost from an iconic Nissan brand - NISMO.
Nissan's storied NISMO Performance brand will debut a new line of off-road parts, including a high-performance suspension kit, an off-road bumper, off-road lighting and off-road wheels on the 2020 Frontier at the 2020 Rebelle Rally, which begins Oct. 8 in Lake Tahoe and culminates Oct. 17 in California's Imperial Sand Dunes.
NISMO off-road parts will be available for the 2005-2020 model year Frontier, 2016-2021 model year TITAN and 2005-2015 model year Xterra later this fall, and will also be offered on the forthcoming, next-generation Frontier. Products will be available through Nissan dealers, select NISMO retailers or via NISMOparts.nissanusa.com.
"We are fired up to watch Team Wild Grace show current and future Nissan Frontier owners what this beast can do on some of the most extreme terrain in the country," said Michael Soutter, vice president, Nissan Aftersales U.S. "These new NISMO off-road parts, created by people who deeply understand trucks and the desire for ultimate off-road performance, will elevate Frontier to a new level of capability."
Nissan is the only automaker to sponsor a team every year in the women's-only Rebelle Rally since it began in 2016. Behind the wheel of the more powerful 2020 Frontier, which features an all-new powertrain and best-in-class 310 horsepower1, Team Wild Grace co-captains Sedona Blinson and Lyn Woodward have high expectations following last year's team-best sixth place finish.
"We've taken the 2020 Frontier on a couple of trial runs, and it's been an absolute rock star," said Woodward. "I'm very excited about the extra power in the V6 - it's a solid truck, and that's what you need to compete out here.
"Our first goal is to always compete hard, but I don't see any reason why Sedona and I can't win it all this year."

NISMO off-road Performance Suspension Kit
     Specifically tuned for the additional weight of typical overlanding equipment such as camping gear, heavy-duty bumpers and larger, heavier tires.
    Monotube, gas-pressurized shocks feature digressive valving that reacts to the most challenging off-road and trail conditions.
    Front and rear shocks allow for additional wheel travel; rear shocks feature remote reservoir technology, which helps ensure optimum performance in demanding conditions.
    System can provide up to a 2-inch lift over stock ride height.

NISMO off-road Bumper
     First in a series of new off-road bumpers for Nissan trucks and SUVs.
    Constructed of high-tensile steel and finished with a durable, textured powder coat.
    Designed, laser cut, formed and welded with quality precision to provide maximum strength and durability in demanding off-road conditions.
    Weighs only 105 lbs.
    Features two attachment points for recovery shackles and accommodation for lights; designed to be winch capable with easy access to winch controls.

NISMO off-road Lighting
     New line of LED off-road lighting developed in partnership with Rigid IndustriesTM.
    Lineup will include a selection of pod lamps (round and square designs) and light bars in a variety of sizes and beam patterns.
    Initial offering will be a set of 6-inch round driving lamps with robust aluminum housings, white accent backlighting and an output of 8,600 lumens.
    Light kits will include installation instructions, harness, switch and NISMO-branded protective covers.

NISMO off-road Wheels
     Custom designed and manufactured for NISMO.
    Size: 17x7.5-inch; Bolt Pattern: 6x114.3; Backspacing: +30mm; Load Rated for 1,950 lbs. (above factory OEM spec).
    Axis Gray painted finish.
    NISMO center cap.
    Designed and tested to rigorous SAE J2530 standards for aftermarket wheels.
Follow along with Team Wild Grace on Instagram or Facebook, and track the team live on rebellerally.com/live starting Thursday, Oct. 8. For more information on the 2020 Nissan Frontier and Nissan's complete vehicle lineup, please visit NissanNews.com.
For more information about our products, services and commitment to sustainable mobility, visit nissanusa.com. You can also follow us on Facebook, Instagram, Twitter and LinkedIn and see all our latest videos on YouTube.
About The Rebelle Rally
The Rebelle Rally, entering its fifth year, is the first women's off-road navigational rally raid in the United States. The event has a unique challenge and scoring system where precise navigation, not speed, is the ultimate goal. Participants trade in cell phones and GPS for old-school navigation in a competition for the elements of time, distance, headings, and hidden checkpoints. Armed with just maps, compasses, and roadbooks, teams of two will be pushed to their limits as they make their way across 2,000+ kilometers of Nevada and California's iconic terrain. Starting October 8 in Lake Tahoe and finishing October 17 along the famed Glamis Dunes, the competition is the longest competitive off-road rally in the nation. For more information including live show and tracking, visit www.rebellerally.com.

read more
---
NEW NISSAN Z PROTO LOOKS TO THE FUTURE, INSPIRED BY ITS PAST 
September 28, 20209/15/2020 | Nissan Official Newsroom

New Nissan Z Proto looks to the future, inspired by its past 

NASHVILLE, Tenn. - The new Z is coming.
Nissan has unveiled the Z Proto, signalling the company's intent to launch a new generation of the legendary Z sports car. Shown at an event beamed around the world from the Nissan Pavilion in Yokohama, Japan, the prototype features new design inside and out, as well as an upgraded powertrain with a manual transmission.
In Franklin, just south of Nashville, hundreds of Z owners and enthusiasts watched the Z Proto's Yokohama debut on big screens from their vehicles in a socially distanced event- part of a weeklong schedule of activities during the 33rd annual International Z Convention (ZCON).
First hinted at in a brand teaser video, "Nissan A-Z," shown in May, the Nissan Z Proto pays full respect to 50 years of Z heritage. At the same time, it's a thoroughly modern sports car.
"The Z represents the joy of driving in its purest form and has helped shape Nissan's DNA as a passionate, innovative challenger," said Nissan CEO Makoto Uchida. "Ever since the first generation, it has captured the hearts of car enthusiasts all over the world. That's why we're so excited today to be able to say to them: Yes, the next one is coming!"
Z Proto is one of 10 new vehicles that Nissan is showing for the U.S. in 20 months, along with top-sellers like Sentra and Rogue, and innovative new models like the all-electric Ariya crossover.
"The United States is home to one of the most devoted and enthusiastic Z communities in the world, with nearly 1.35 million total sales over the model's 50-year history," said Mike Colleran, senior vice president, Nissan U.S. Marketing and Sales. "With new models like Sentra and Rogue opening new eyes to our brand, Z Proto is our loudest statement yet that Nissan will continue to bring vehicles that thrill to U.S. showrooms."   

Z Proto exterior: past meets future
Sporting a bright yellow pearlescent paint - a tribute to a popular paint scheme on both the first-generation 240Z and the 300ZX - the Z Proto boasts a fresh, attractive exterior design with a silhouette that communicates respect to the original model.
Using a theme that combines elements of previous generations while also projecting futurism was challenging, said Alfonso Albaisa, head of design at Nissan.
"Our designers made countless studies and sketches as we researched each generation and what made them a success," Albaisa said. "Ultimately, we decided the Z Proto should travel between the decades, including the future."
The shape of the hood and the canted, teardrop-shaped LED headlights are both unmistakable reminders of the original Z. The rectangular grille dimensions are similar to the current model, although the grille fins nod to the past. The form continues to exude both sportiness and elegance.
"The LED headlights have two half-circles that hark back to the Japan market-only 240ZG of the 70s," Albaisa explained. "The ZG has clear dome lenses over the headlight buckets, which under light give off two circular reflections over each headlight. We liked that unique characteristic and discovered that it naturally fit with the Z's identity."
The link to the original Z is most striking when viewing the Z Proto from the side. The roofline flows from the nose to the squared-off rear to create a distinctive first-generation Z profile whose rear edge was slightly lower than the front fender height giving the Z its unique posture. The signature transition from the rear quarter glass to the low-slung position of the rear tail adds to the effect.
The rear takes inspiration from the 300ZX taillights, reinterpreted for the modern world. Set within a rectangular black section that runs across the rear and wraps around the outer edges, the LED taillights convey a sharp glow.
Lightweight carbon fiber treatments on the side skirts, front lower lip and rear valance ensure nimble performance. 19-inch alloy wheels and dual exhausts complete the Z Proto's striking road presence.